Styleinformant LABS: Hey Hadrien!
Hello there!
Well as we do some surfing on the web, we find things that catch our attention. Here on the other hand gonna share our findings.
Hey Hadrien!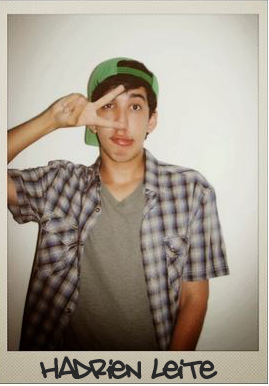 I'm Hadrien Leite, 17, From a small city in Brazil on the northeast of the country here almost don't have fashion scene, people wear too casual like shorts and flip flops, sometimes (like now) ahah i wear like this when i'm at home and i will not take outfit pics or going to out.
What made you get into blogging? Huuum... My passion for photos. My blog(Hey Hadrien!) It's not my first blog, when I started my first blog like a year ago I don't know what bloggers do at that time, and nobody told me, so I was not caring with what I'm wearing to take my pics but just in the pics, of course the pic it's a big deal but it's a Outfit post so you must wear something acceptable, and i though that bloggers was just producer, it's a lots of work UFFF... , so after a long travel that i've done i've wondering a lot than I decided to restart my blog, and with a week I created the Hey Hadrien!. (- just to you know my first blog's name was Hadrien's Factor)-
What inspires you? I don't really have too many inspirations but I like to see what people are doin' around the big scene off the internet.So I have many fashion bloggers that enjoy following on my instagram just to see whats going on, if your in that blank-mind-day you must go to Pinterest, you will have a big bomb of cool things that will inspire you, that's what i do.
Does the way you dress fit into a category or have a nickname? (i.e prep,grunge,punk,etc)I don't have a personal style, like grunge, rock or whatever...I enjoy wearing what I feel that day, but I love plaid and jeans, don't know why but I like them and I could not imagine myself not wearing it.Usually what I'm listening to helps me decide what to wear, music is a part my life. Since the start of the day, so theres somedays when I'm listening very deep songs I wear indie, and somedays more dark.
Do you have any advice to give?Wear what you like! There's no other rule, I like to be casual like jeans, sunglasses, and I don't like to be very formal (But sometimes you need to, in those cases it's different) so I avoid formal pieces, just because it's night you don't need to take off your glasses ahahaha maybe don't look good to the others eyes but to me it's fine so I don't give a damn!
Thank you Hadrien for you time!