Styleinformant LABS: LOCAL EVENTS
Hello Beautiful Creatures!
I hope you all have your summertime jam packed with awesome things to do and get done! We all know this sunshine will not last long and we want to achieve greatness....at least for the most of us! If you reside in the beautiful luster that is Colorado or just be happen to be visiting/passing by...Here are some events you can add to your list of adventures!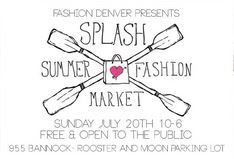 (Honestly, going through a soccer withdrawal as well. Can't believe WORLD CUP is over!)

If these happen to excite you in any way feel free to click any of the images to purchase tix! Hope to see ya there
INFORMANT